New Marker celebrates Sigma Gamma Rho!
Image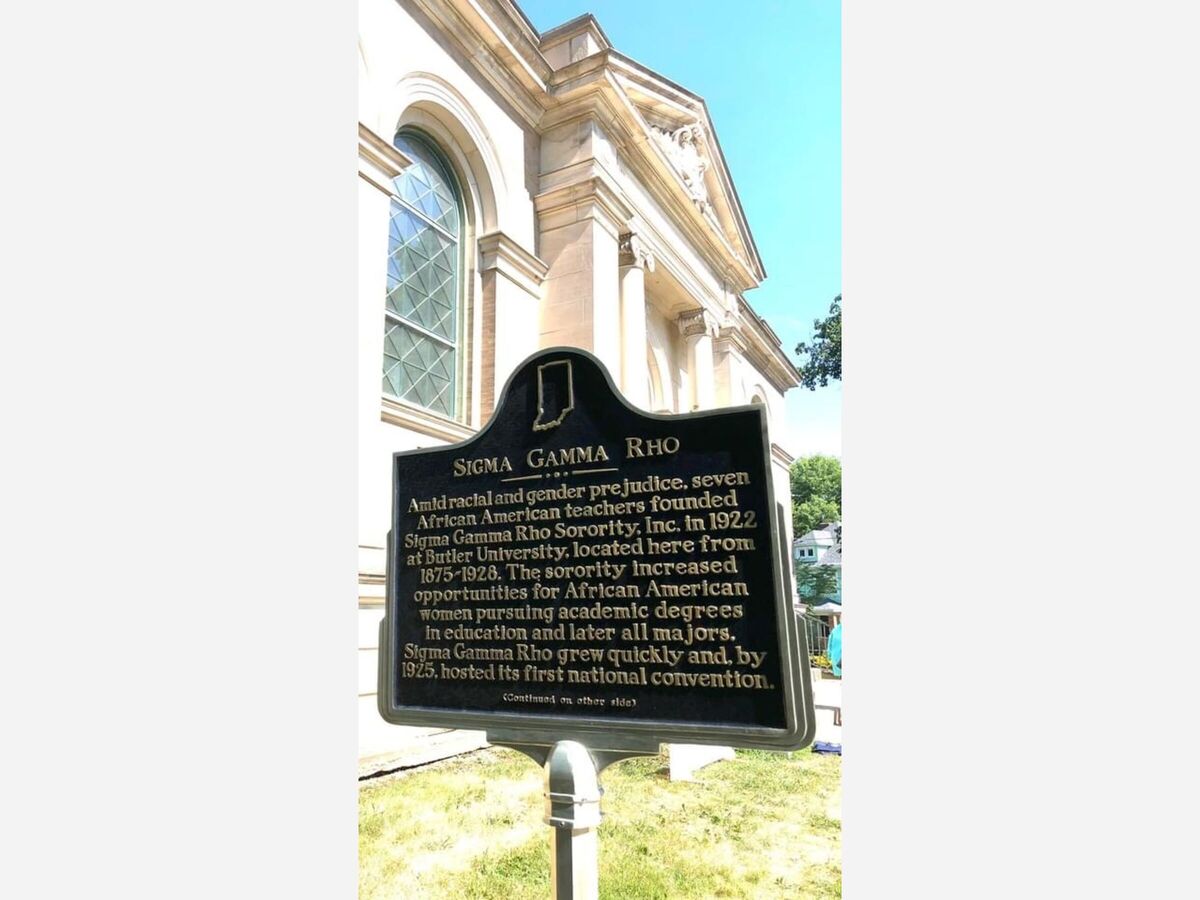 A big announcement today from the Indiana Historic Bureau! "Irvington has a new Indiana state historical marker commemorating Sigma Gamma Rho! Working alongside the sorority and the Irvington Historical Society, we helped dedicate the marker this morning at the Bona Thompson Memorial Center, part of the original Butler University campus from 1875-1928 and current home of the Irvington Historical Society.
Seven African American teachers founded Sigma Gamma Rho at this site in 1922 to increase educational opportunities for women pursuing academic degrees. Over the past 100 years, the sorority has worked to promote education and healthcare, advance civil rights, and advocate on behalf of youth, women, and families.
Thank you to Sigma Gamma Rho Sorority, Inc. for spearheading the application for this marker, the Irvington Historical Society for their work hosting today's dedication, and Special Collections, Rare Books and University Archives at Butler University for use of their collections on Sigma Gamma Rho."
About this historic sorority: Did you know? Back in 1922, when Indiana was heavily segregated and in the grip of the Klan, seven young African-American women founded Sigma Gamma Rho Sorority Inc.. (ΣΓΡ) at Butler University in Indianapolis.
It was incorporated within the state of Indiana in December 1922, becoming a national collegiate sorority on December 30, 1929, when a charter was granted to the Alpha chapter.
The founders: Mary Lou Allison Gardner Little, Dorothy Hanley Whiteside, Vivian White Marbury, Nannie Mae Gahn Johnson, Hattie Mae Annette Dulin Redford, Bessie Mae Downey Rhoades Martin and Cubena McClure.
Today, Sigma Gamma Rho Sorority, Inc. has 100,000+ members with more than 500 undergraduate and alumnae chapters throughout the United States, Bermuda, The Bahamas, Canada, and Korea. Women join through undergraduate chapters at a college or university, or through an alumnae chapter after earning a college degree. Sigma Gamma Rho also supports two affiliates: youth group of young women called the Rhoers and the Philos, women who are friends of the sorority.
See: https://www.sgrho1922.org
Founder Johnson was born on June 20, 1904, in Indianapolis, Indiana. She received her BS in 1932 and her MS in 1941 from Butler University. She started as a teacher in 1923 and was eventually promoted to principal of one of the largest elementary schools in Indianapolis at the time. She was also very involved with many clubs and organizations dedicated to community service. Ms. Johnson retired in 1966.