A Madam Walker solo show inspired by Indiana Avenue
Image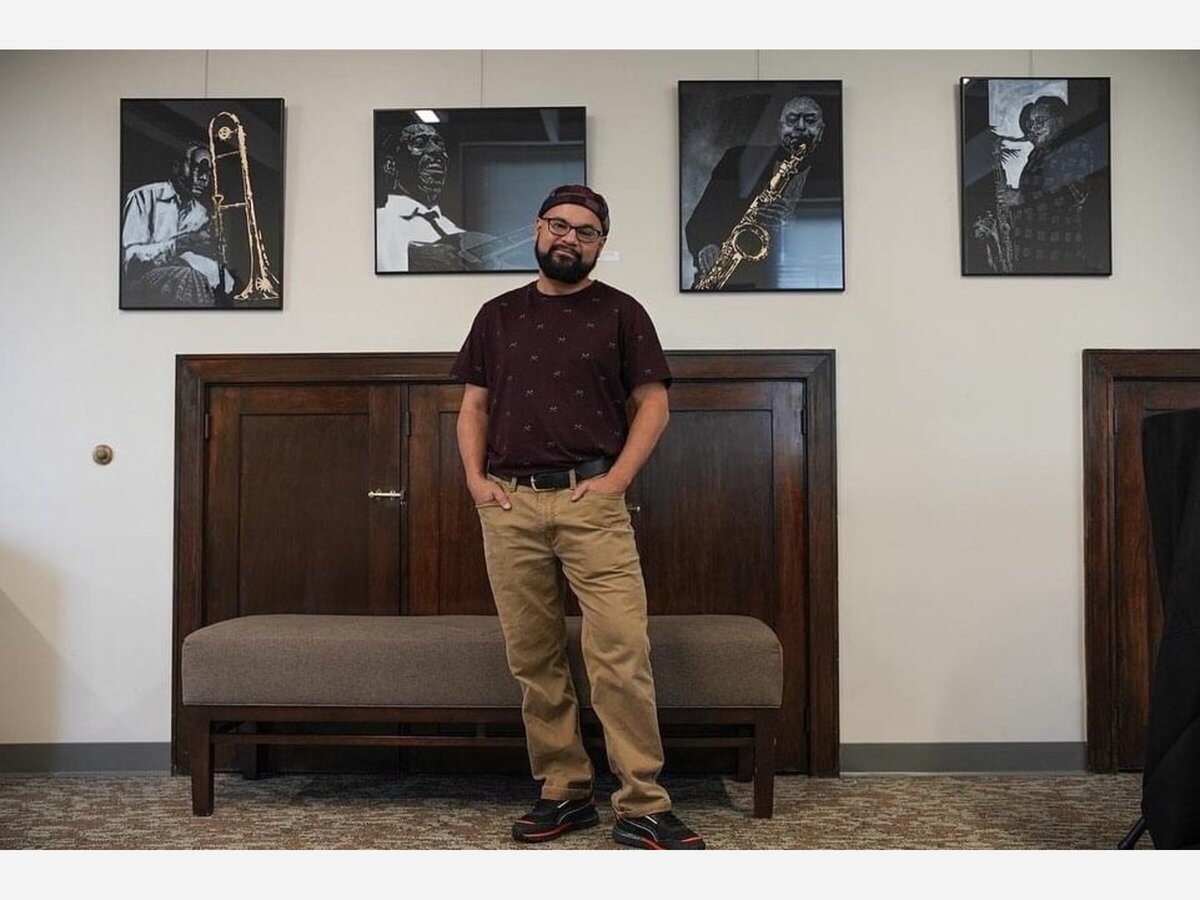 TJ Reynolds, an artist, musician and educator from Indianapolis, who is now based in Boston, has a solo art exhibition titled "We Catch the Light" on display at the Madam Walker Legacy Center through Sept. 30.
Notes the Madam Walker Legacy Center  Facebook account, the show is "a multifaceted collection of works old and new, including an Indiana Avenue Jazz series."
For more, visit: https://madamwalkerlegacycenter.com/
Despite his busy schedule, the artist graciously took the time for this Q&A!
Indiana Avenue News: Can you pinpoint the moment where you realized you were an artist, or was this something you always knew?
Reynolds: I think it's less I realized and more I never decided I wasn't. Part of wanting to become a elementary art teacher was to help kids hold on to their belief in their own creativity.
Indiana Avenue News: As individuals prepare to visit the Madam Walker exhibition of your work, what should they expect from "We Catch the Light"?
Reynolds: All portraits, most of people I know from the Black community. For this show I've also done a series of images related to the space, including portraits of several great musicians from Indiana Avenue history.
Indiana Avenue News: You've implemented other exhibits under this title. Is this a summation of sorts of your credo as an artist, musician and educator? What does this mean?
Reynolds: I subtitled this show Reflections of Indiana Avenue. It's a continuation of a certain style. That and it's hard to come up with names.
Indiana Avenue News: You've shared some striking images of jazz musicians included in this exhibit. If you could sit down and converse with just one, who would it be and why?
Reynolds: Wes Montgomery. I'd love to hear about his experiences and approach.
Indiana Avenue News: How often is Indiana Avenue in your thoughts, and what associations does it bring to mind?
Reynolds: More lately. I've just found more resources lately, or maybe just tuned into them more. Creating art that reflects local history has also spurred my interest in the subject.
Indiana Avenue News: Following you on social media, you often share unique insights as a musician, educator and artist. How do you successfully avoid burnout? Any advice to share with other creatives?
Reynolds: Don't be afraid to try new things, and carve out time for your creativity. It's as important as exercise.
Indiana Avenue News: You're from a very creative family, could you share a bit about that?
Reynolds: My sister (Teresa Reynolds) is a talented musician and someone I work with a lot. Music has brought us closer. We have an album of songs together coming out at some point. Our family tree includes the Poet Laureate of Puerto Rico.
Indiana Avenue News: Do you have any recommendations for music, spoken word, art and books?
Reynolds: Experience people in your community creating art and then join the community.
Indiana Avenue News: Are you currently available for commissions, and what's the best way to contact you?
Reynolds: People can email me, I'm open to commissions if they line up with my work and mission. Mrreynoldsraps@gmail.com
Indiana Avenue News: Just purchased "Sugar on the Tongue" and was listening to "Storm is Coming." Was this absolutely about climate change when you first released it? And how does it resonate with you now?
Reynolds: Yes, definitely a climate change anthem. Ten+ years ago when I released there were a lot if dire predictions. Today they are happening all around us.
Artist Bio: "TJ Reynolds is a multi-discipline artist and educator whose mission it is to spread the power of creativity and community. Visual artist, animator, director, M.C., producer, multi-instrumentalist and poet are just some of the creative avenues Reynolds travels on his exploits. As an educator, he has worked with thousands of students and adults in every conceivable setting; preschool through college, prisons and gifted schools, though his message remains the same; we must use art and expression to connect to each other and the world around us. Reynolds has been the recipient of numerous awards, including a Nuvo Cultural Visionary Award, Spirit of Herron (School of Art) Award, and the first ever hip-hop artist to be named a Creative Renewal Fellow from the Arts Council of Indianapolis. His music has been featured nationally on NPR, and he has won rap battles, poetry slams and a Moth Story Slam." You can learn more about TJ Reynolds at tjreynolds.net.