Details released for 13th annual G2G Conference!
Image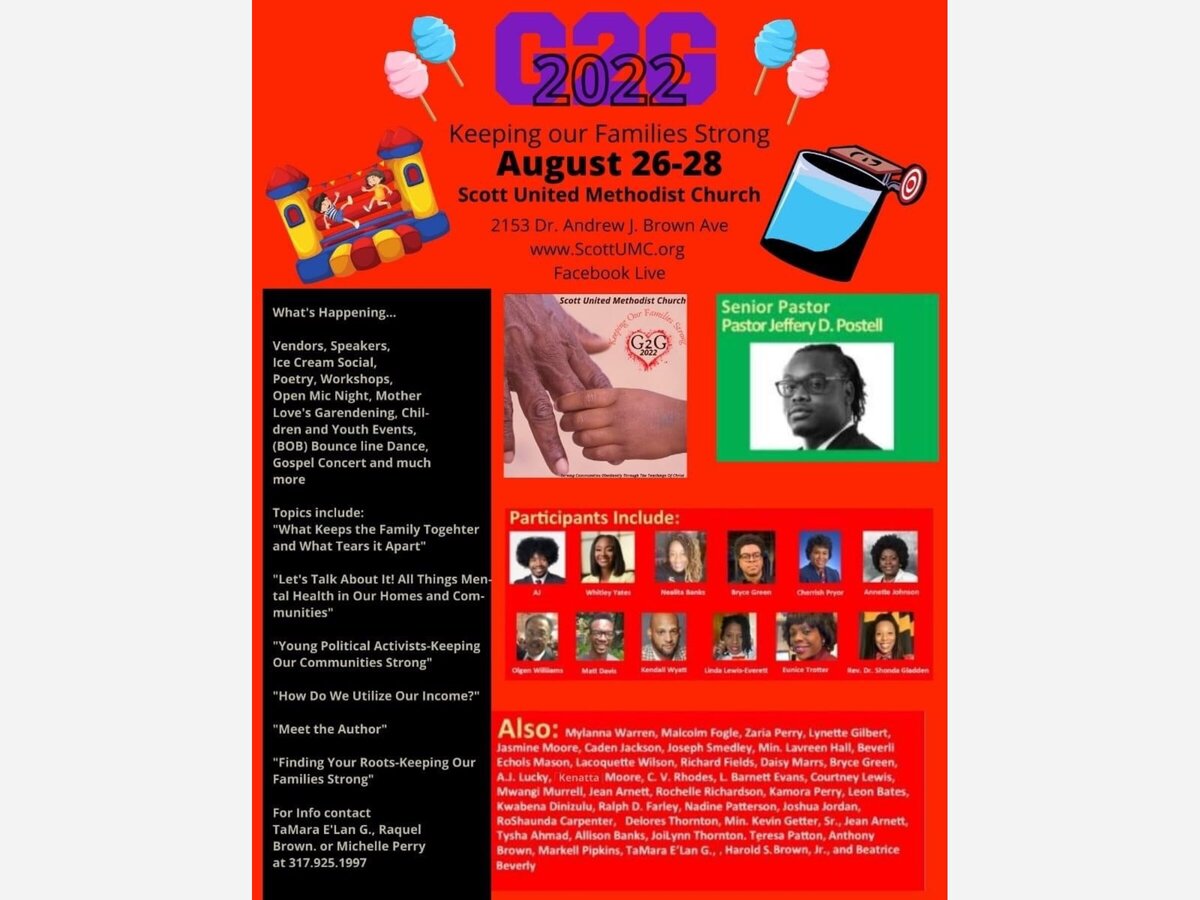 13th Annual Generation to Generation Conference: "Keeping Our Families Strong" Coming Friday, August 26, 2022 – Sunday, August 28, 2022 at Scott United Methodist Church.
With Pastor Jeffery D. Postell, Senior Pastor at 2153 Dr Andrew J Brown Ave Indianapolis, IN 46202. Call  (317) 925-1997 church office
***Face masks encouraged
"Serving Communities Obediently Through the Teachings of Christ"
In 2009, Scott United Methodist Church and the Rev. James C. Anyike started a new ministry called the Generation to Generation Conference. The purpose of G2G remains to bridge the gap between generations while addressing important issues facing the African American community of Indianapolis.
"During conference events, we seek to build a strong African American community through the sharing of knowledge necessary to create stable, dynamic individuals and families. Annually, we present workshops that provide life and love skills and community information.
We hope this year you will learn much from our workshops on keeping families together, researching your family history, living with mental and emotional illness, taking care of your finances, local politics from a young adult perspective and much more, including several events for youth and teens.
Additionally, we always showcase some of the best talent in the city. Then on Sunday, we come together to worship God. We hope you will enjoy this year's G2G Conference."
2022 G2G Conference Agenda
"Keeping Our Families Strong"
Friday, August 26
6 pm. Welcome and Prayer,
Conference officially opens by Chair Michelle Michelle L. Perry , Co-chairs TaMara E. Goode , Raquel Sherels-Brown , Eunice Trotter
Opening Speaker:
Pastor Jeffery D. Postell, Senior Pastor,
Scott Umc Church
7 pm. Family Dinner (Free Potato Bar)
8 pm. Outdoor Family Fun Night, BOB Bounce Line Dance
SATURDAY, August 27
9 am. Continental Breakfast (Fellowship Hall) Volunteers and Guest
9 am.- Until.
Visual Artists Exhibit Opens (Fellowship Hall)
Artists: TaMara E'LanG., Mwangi Mwangi Arthur Murrell , Jean B. Arnett , Rochelle Richardson, and Kamora Perry
9:30 am-11 am.
Discussion Panel (Sanctuary)
"What Keeps a Family Together and What Tears it Apart?"
Focuses on dynamics, responsibilities and issues and solutions for today's family.
Moderator: Mylanna Warren
Panelists: Olgen Williams, Malcolm Fogle, Zaria Perry, Kendall Wyatt , Lynette Gilbert, Jasmine Moore, and Caden Jackson
10 am-6 pm.
Indiana Health Department Mobile Unit
COVID-19 testing, vaccines and boosters, pediatric vaccines for ages 5-12. HIV testing will also be available.
11:30 am-1 pm.
Family Finances Workshop (Rev. Word Chapel) "How Do We Utilize Our Income?" Learn ways to budget, save and increase your income.
Moderator: Kenyatta Moore, Financial Advisor
12:30 pm-1:30 pm.
Musical Performance Concert (Sanctuary)
Performers: Nealita Banks, Joyce Carter, Minister Markell Pipkins
12:30 pm-1:30 pm.
"Meet the Authors" (Zoom Room)
Hear book excerpts and learn how to write a book from professionals.
Authors: Linda Lewis-Everett , C.V C.v. Rhodes & L. Barnett Lillie Evans , and Daisy Wadlington-Marrs
1 pm-3 pm.
Genealogy Workshop (Fellowship Hall)
"Finding Your Roots"
Moderator: Eunice Trotter and Leon Bates, Historians and Genealogists
This workshop provides basic tips for charting ancestors and finding those lost in time.
2 pm-3 pm
Mother Love's Gardening, (Outside)
Grow food, plants, and herbs! Learn the importance and skills of growing your own food.
Moderator: Tysha Ahmad
2 pm-3:30 pm.
Mental-Spiritual Health Symposium (Sanctuary)
"Let's Talk About It!"
Addressing Mental health in our homes and communities.
Moderator: TaMara Goode
Panelists: Beatrice Beverly of NAMI, Min. Lavreen Hall, Beverle Beverli Echols Mason , Min. Lacoquette Wilson, Rev. Richard Fields , Harold S. Brown Jr., and Daisy Marrs
4 pm-5:30 pm. Young Political Activists, (Sanctuary)
"Keeping Our Communities Strong"
Panel addresses current political and social concerns from the perspective of young activists and officeholders.
Moderator: Annette Johnson
Panelists: Bryce Green, Whitely Yates, Cherrish Pryor, AJ Lucky and Mat Davis
6 pm-8 pm.
The Village Cipher performances, (Sanctuary)
Sit back, relax, and enjoy various artists perform spoken word, poetry, storytelling and more.
Host: Nadine Patterson
Headliners: Kwabena Dinizulu and Ralph Farley
Performing Artists: Joshua Jay Bird Jordan , RoShaunda Carpenter , Rev. Delores Delores Lewis Thornton , TaMara E'Lan G. ., Minister Lacoquette Wilson, Kevin Getter Sr., and Jean Arnett
G2G Children and Youth Engagement
Ages: 5yrs – 18yrs of age
10 am-6 pm. Youth and Teens Workshops, (Outdoors and Brightwood Community Center)
Moderators: Allison Banks , Joi-Lyn Thornton
Dance, Games, Art, Fire Safety, different abilities and coping skills workshops.
6 pm. Balloon Release. G2G printed- stuffed with words of encouragement
Sunday, August 28
11 am. Gospel Concert (Sanctuary) Featuring Markell Pipkins and the Scott UMC Choir.
Speaker:
Rev. Shonda Gladden, Senior Associate Pastor,
c/o Broadway United Methodist Church
1:30 pm. Fellowship Hall for Ice Cream Social and BOB Bounce Line Dance
All events streamed live on Facebook on the Scott UMC page.
**Also, remember masks are required and covid precautions in effect!**
2022 Sponsors
UMC Christmas Bishop Grant,
American Foundation for Suicide Prevention (AFSP)
Project W.I.N.G.S
Thank you to all volunteers who took part in this year's G2G Conference!
Scott UMC Sunday morning worship is @ 11:00 am
Wednesday Evening Prayer Service is @ 6:00 pm
Project W.I.N.G.S is Thursday evenings @7:00 pm