Teen legends stroll down Indiana Avenue
Image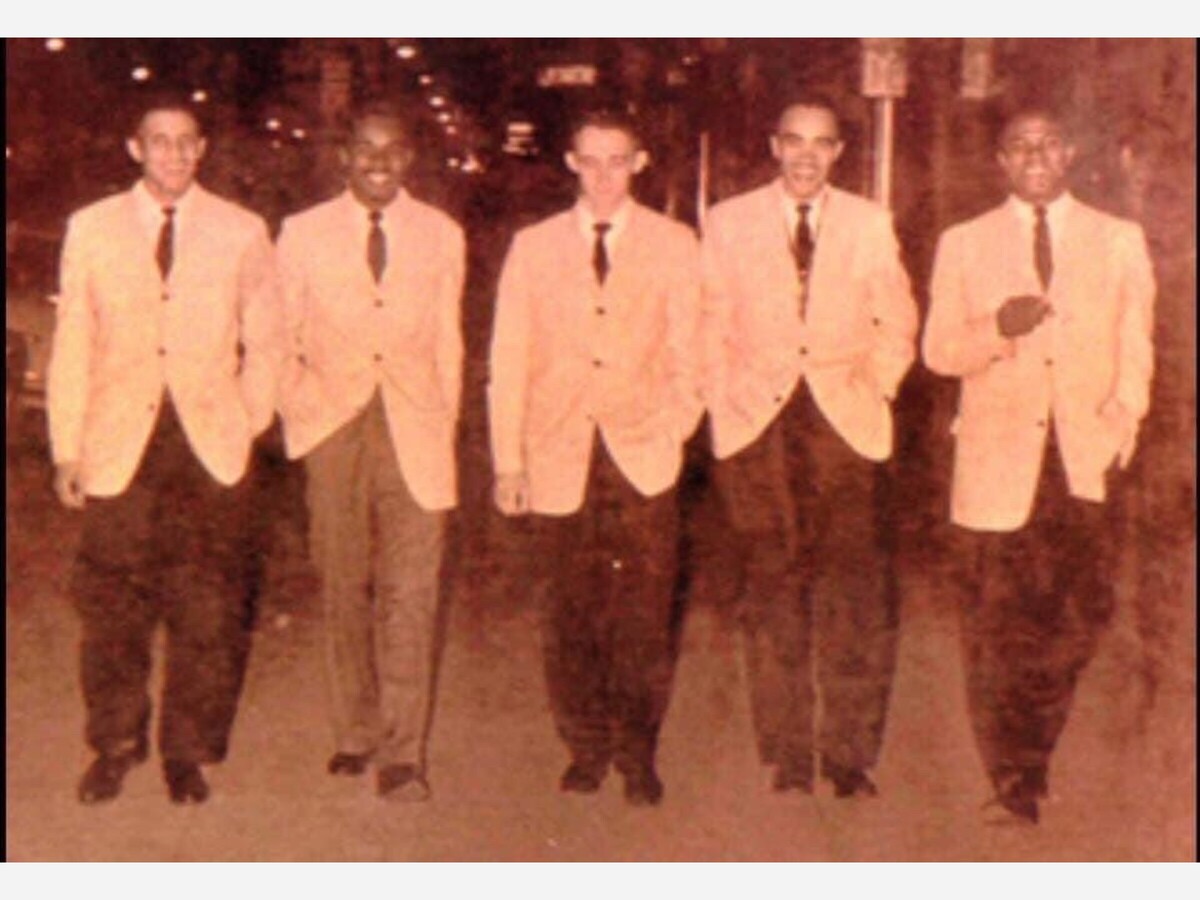 Imagine walking down Indiana Avenue and meeting these rising stars, The Jazz Contemporaries!
Strolling after a gig at George's Bar, here's Larry Ridley, Freddie Hubbard, Walt Miller, James Spaulding and Paul Parker, still in their teens.
Here's Ridley's recollections of the 1950's Indianapolis jazz scene and Wes Montgomery and his brothers, from JAZZed Magazine:
"Indiana Avenue was the main (but not the only) street featuring jazz in the African American neighborhood clubs and theatres in Indianapolis, much like the black neighborhood main streets in many cities. There was the T(heater) O(wners) B(ookers)A (ssociation) and others that booked the various bands in what was affectionately called the "Chittlin' Circuit."
Many big name artists and bands performed in Indianapolis: Duke Ellington; Count Basie; Lionel Hampton; Jay McShann; Louis Jordan; Tiny Bradshaw; Earl Hines; Charlie Parker; Billy Eckstein; Rusty Bryant; "Bull Moose" Jackson; Jimmy Smith; Milt Buckner; Sonny Stitt; Cannonball and Nat Adderley; George Shearing; Phineas Newborn; and so on.
Indianapolis had numerous venues, such as: Sunset Terrace, Georges Bar, Henri's, Cotton Club, Missile Room, the Topper, Clown's Playhouse, Northwestern Tavern, the Madam Walker Legacy Center, British Lounge, Cactus Club, Mr. B's, and the Hub Bub.
"Indy" has produced innumerable great local and nationally renowned musicians: Noble Sissle; Ben Holliman; Wes, Monk and Buddy Montgomery; Jimmy Coe; Leroy Vinnegar; Philip Stewart, J.J. Johnson; Carl Perkins; Erroll Grandy; David Baker; Freddie Hubbard; Benny Barth; John Bunch; Willis Kirk; Alonzo "Pookie" Johnson; Sonny Johnson; Tillman Buggs; Virgil Jones; Melvin Rhyne; Phil Ranelin; Michael Ridley; Al Coleman; Henry D. Cain; Will Scott; Al Finnell; Tiny Adams; Sarah McLawler; Buddy & Paul Parker; "Killer" Ray Appleton; Eugene Fowlkes; David Hardiman; Mingo Jones; John Dale; Larry Liggett; Dickie Laswell; Henry & Harold Gooch; David Young; Slide Hampton and his fantastic family band.
"I bumped into Monk Montgomery on the street and asked him if he would give me bass lessons. He gave me his address and told me to come by his house. When I got there he was rehearsing with his brothers Wes (guitar) and Buddy (piano) along with Alonzo "Pookie" Johnson on tenor sax, and Sonny Johnson on drums. They played a couple of numbers and Monk called me over to pick up the bass. Man, my stomach was churning. I don't remember the tune, but I must have done all right because Wes turned to me smiling and gave me a compliment.
Monk then said that he was going to Seattle and California to set up some bookings for a new group he was forming called the "Mastersounds" and wanted me to sub for him at the Turf Club playing six nights a week with a matinee with the "Montgomery Johnson Quintet." Man, my nerves were racing, but I hung in there with them. Some of the tempos on tunes like "Cherokee" were up there. I am forever indebted to them for taking me, a young teenager, under their wing teaching me on and off the bandstand and giving me confidence that I could become a jazz bass player.
"In the 1950s, I created a band of young teenage "Turks" and called us the "Jazz Contemporaries" with Freddie Hubbard on trumpet, James Spaulding playing alto, tenor and flute, Paul Parker on drums, Walt Miller on piano – later replaced by Al Plank – and, me on bass. Our repertoire included Max Roach/Clifford Brown and Art Blakey Jazz Messengers arrangements. My uncle's Martin and Tom Ridley knew the owners of George's Bar, who hired us for a couple of months to a six-nights-a-week with two matinees engagement. I also created all of the newspaper ads and flyers. We created a lot of attention throughout the Midwest and the club owners made money."
Full interview:
http://www.jazzedmagazine.com/2629/articles/spotlight/dr-larry-ridley-t…