These Crispus Attucks teens became Doo-Wop legends!
Image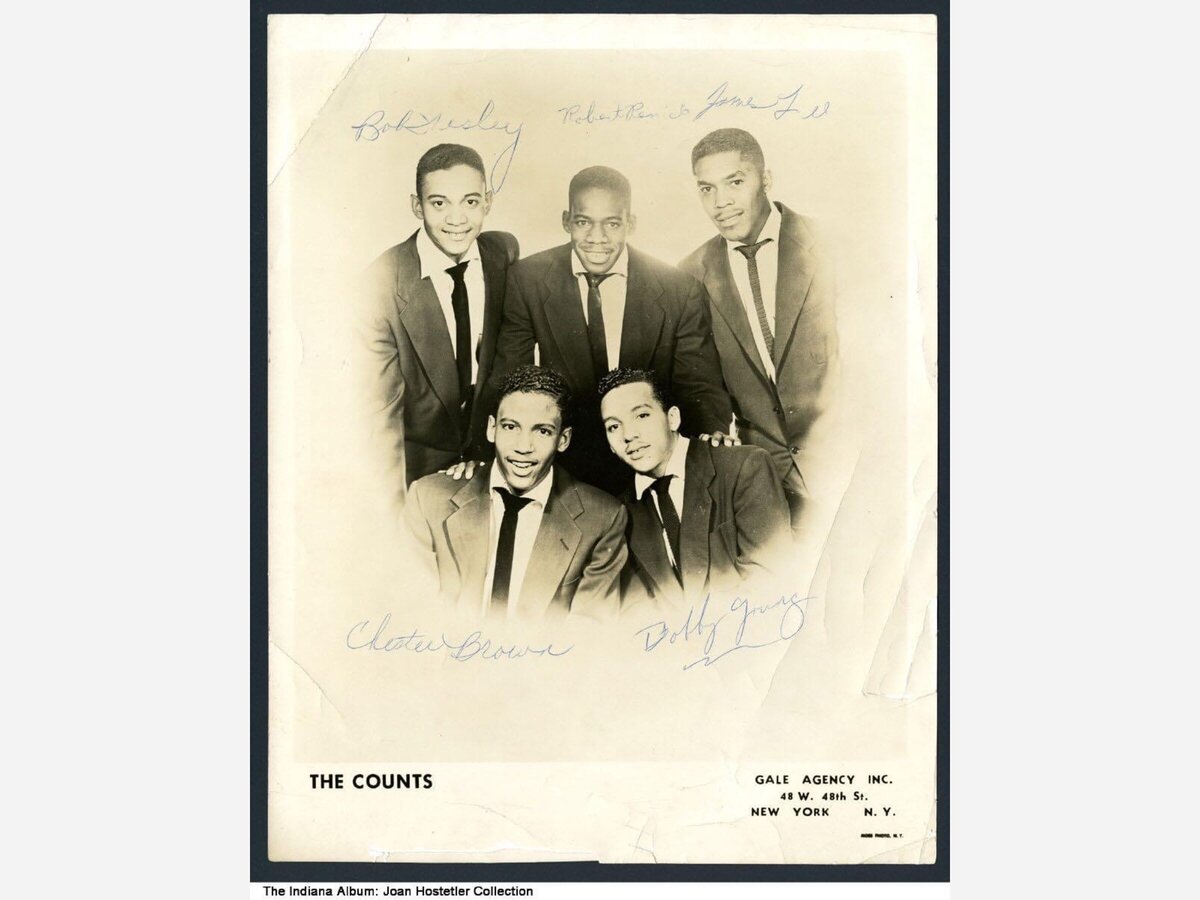 As music historian Marv Goldberg explains, while many groups enjoy  an initial hit and then fade  from sight, The Counts came out of Crispus Attucks High School and remained together for over 40 years.
Writes Goldberg, "The Counts formed in 1953, while the 16- and 17-year-old members were attending Crispus Attucks High School in Indianapolis, Indiana. They all belonged to the boy's choir, and, along with thousands of others all over the country, they one day decided to form the inevitable "group." The original (and to this day) members were: Chester Brown (tenor lead), Robert "Chico" Penick (first tenor), Robert Wesley (second tenor), Robert Young (baritone), and James Lee (bass). The standard photo of the group was taken in 1953, and appeared in that year's Crispus Attucks yearbook.
The group practiced the hits of the day, admiring the sounds of the Drifters and the Four Freshmen. Calling themselves the 5 Diamonds, they entered the usual round of vaudevilles and contests in school, although they never won a single contest! However, one day they sang at a dance held at the Madam Walker Theater, and their big break came. They impressed someone in the audience, who introduced them to Mel Herman, owner of a distribution company in Indianapolis.  Herman became their manager and brought them to the attention of Randy Wood, head of Dot records (at the time in Gallatin, Tennessee).
Once at Dot, they underwent a name change: gone were the "5 Diamonds"; the group was now officially the "Counts." Their first effort was "Darling Dear" and "I Need You Always," both of which had "The Counts" listed as writers. These first two songs were recorded in someone's living room; most of the rest of their tunes were recorded at Indianapolis' Wilkins Studio. The band of saxman Jimmy Coe backed them on all the Dot sides."
Read full article here: http://uncamarvy.com/Counts/counts.html
📸 Sharing from Indiana Album:
"Promotional photo of "The Counts" musical group, Indiana, ca. 1960.
This autographed photo shows the five members of the doo-wop singing group "The Counts," including Chester Brown, James Lee, Robert Penick, Robert Wesley, and Robert Young. All the band members attended Crispus Attucks in Indianapolis. They were represented by the Gale Agency, Inc. of New York City."
See: https://indianaalbum.pastperfectonline.com/photo/F380B6CE-8818-4713-934…
Listen: https://m.youtube.com/watch?v=21UgVA8nMdg
And here's a video from the Doo-Wop Society of Southern California. "THE COUNTS performed at this November 3, 2001 event in Long Beach, California with the four surviving original members, Chester Brown, Robert Wesley, Robert "Chico" Penick and James Lee. The fifth member, Bobby Young, had died several months earlier. ) Darling Dear" was the group's first record, issued on Dot in January 1954."